INTO THE WOODS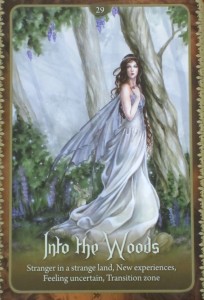 (photo credit: daily-tarot-girl.com)
You are in a time of transition.
Moving between worlds & maybe far from your comfort zone. So keep going, through this time of awkward vulnerability because you will eventually get back to a time and place when you feel sheltered again.
Your purpose will begin to reshape itself, hope and faith will replace guilt and fear and your dreams will be recreated.
Keep walking, move beyond your comfort zone, allowing the discomfort. No turning back. The promise is that there will be great rewards for doing so, including a flowering of talent & skill.
So what do you think? Does that resonate with you?
that's perfect for you because it's based on
who you are at the core?
who has been waiting to be found.